Michele
I, unlike Monica, have a serious sweet tooth. I usually enjoy some kind of dessert with my boyfriend over the weekend. As a Miami Beach local, my favorites are The Frieze Ice Cream Shop (rum raisin) and True Loaf (walnut chocolate chip cookie). I'm not a saucy person and years ago quit sugar in obvious places like coffee, yogurt, cereal, etc. I rarely eat protein bars, as I keep a tin of walnuts in my bag at all times to hold me over in times of emergencies. So I was definitely excited for this 30-day challenge as it would coax me into reaching for more natural sources of sweets (fruit!).
My First Week
The first week went by and it was actually not as bad as I thought. After lunch I usually grab a square of dark chocolate – so that habit was quickly retired with my Sweet Defeat lozenges. Surprisingly, I didn't really miss it. I think I'll keep this one up. Do I really need a bite of chocolate after lunch most days??? (NO!) Define "NEED"! It's MENTAL! But — to arrive at a comfortable, secure psychological space with cravings, sometimes we need a little help. (Like in the Beatles song — we get by with a little help from our Sweet Defeat friends.)
My Second Week
At the end of the second week I had a trip planned with my boyfriend and his family to Washington D.C. It was not a problem until one night after dinner we went to his brother and wife's home. She is a fabulous baker and typically will have some kind of treat freshly made. After a few minutes of hanging out, she comes into the room with a freshly made cake, candle lit and all as an early birthday treat for his dad. We all sang and pieces were cut and given out without asking. I knew then I would not be that socially awkward person turning down her homemade cake which was obviously made with love. I had a couple of bites and called it a day – a mindful, satisfying experience.
My Third Week
Finally, at the end of the third week, I had dinner reservations during Miami Spice. For those of you who don't know Miami is a seasonal place and businesses can experience a slump in sales during the winter as tourists, snowbirds and traveling locals skip out on the heat. Miami Spice is a prix fixe menu consisting of 3-courses which ends with, you guessed it, dessert! Our menu that night served freshly baked cookies. Each of us were served two — I ate one — again, mindfully.
Cheating? Or LEARNING OPPORTUNITIES?
So – I "cheated" twice. However I recognized a few things during this month.
One- I don't need a dessert. Food like berries, figs, mango and many other natural foods are sweet and delicious on their own.
Two- as a dietitian I understand the many roles food plays outside of our health, from social, cultural and many more. No one food will save your health nor will one food ruin your health. It is all about balance. I think it is important as a nutrition professional to be an example of moderation. If I had refused to have that piece of cake or that single cookie what kind of message would I be sending to others around me? Probably one of extremes, placing a label of "bad foods" and "good foods". Where as the truth in health is eating a diet which is mostly from real, whole, unprocessed sources, quality sleep, regularly exercise… oh and the occasional treat if I deem it mindful; or using Sweet Defeat lozenges if I cannot confront and cope with the craving mindfully.
Stay tuned for our next blog post in the series to hear about Essence RD Michelle's (yep. We have TWO Michelles!) experience…
Want to see how Sweet Defeat can fit into your own life? Click HERE to give 'em a whirl!
Promo code: ESSENCE50 for a SWEET discount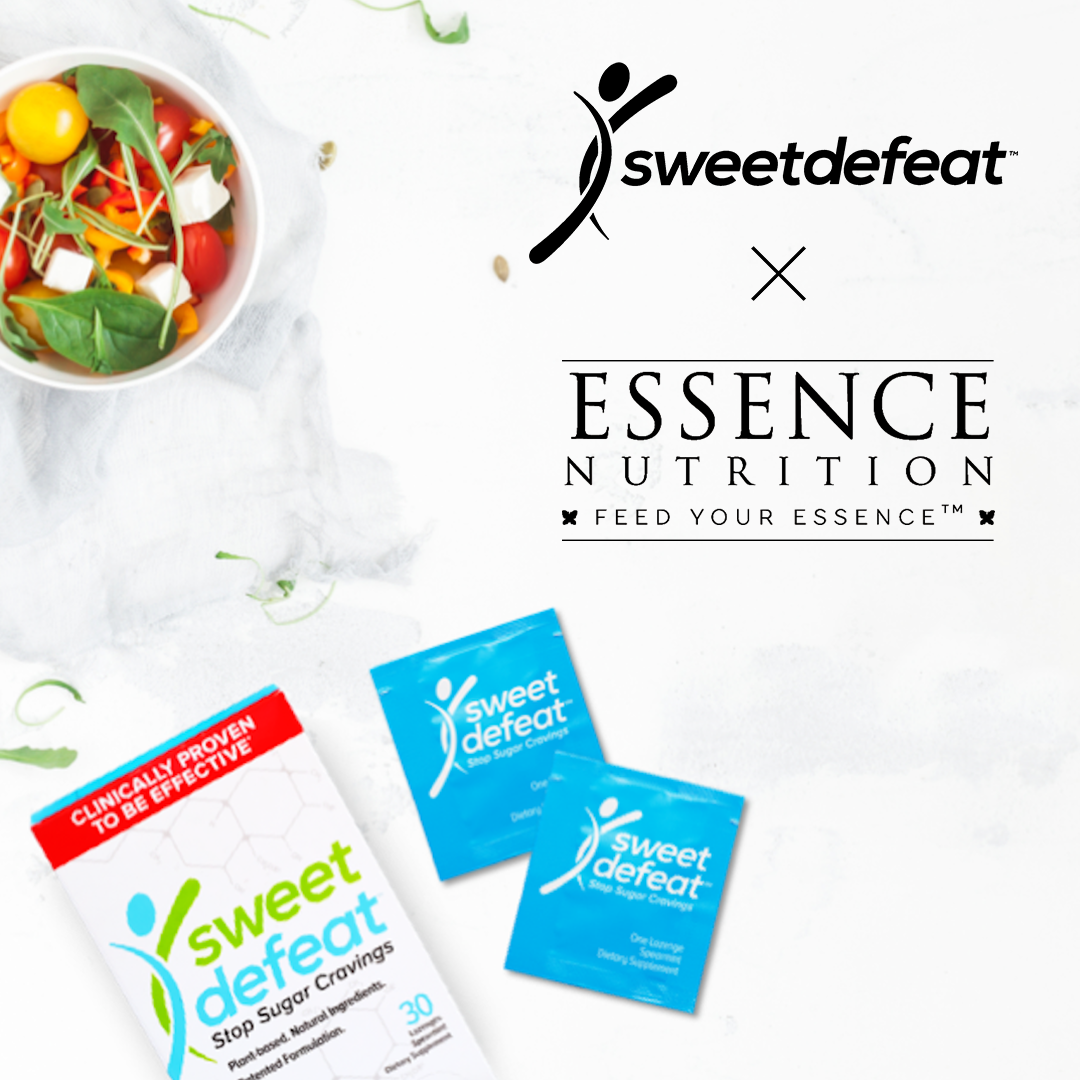 This blog brought to you via a partnership with SweetDefeat. All content is ours and original; Essence only partners with brands and products that are #essenceapproved.